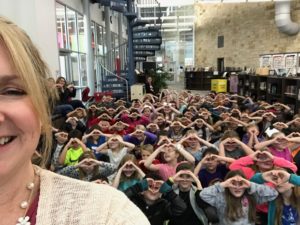 During the past glorious year, jam-packed with school visits and other opportunities to visit with readers of all ages, a nagging misconception kept popping up: the belief that authors are wealthy. The reality is that most authors—especially children's book authors—earn a fraction of what teachers earn, and we all know how teachers are underpaid. It would be impossible to put a dollar value on the hours, months, years an author invests in honing the writing craft and penning books that may or may not be published. Writing is both an art and a skill that requires deep expertise and an apprenticeship time of study. Sometimes that study compels writers toward advanced degrees with a tassle of student loans attached—in hopes of producing books that are unlikely to generate a livable wage.
If you are charged with inviting an author to speak at your school or event, if you are a lover of books but hesitant to buy a copy, or if you are a new writer hoping to make it big as a children's author, the following overly-simplified financial explanation might be enlightening. Toward that goal of simplicity, I'm sticking to basics and skipping nuances like sub-rights, escalations, etc. (much of which is over my head anyway). I'll be speaking specifically from a picture book author's perspective.
How Do Authors Get Paid?
Publishers offer picture book authors an average advance of $2,000-$8,000 (pre-agent-commission and pre-tax). Middle grade and YA authors can earn similar or higher advances. Extreme outliers earn from zero advance to a six-digit advance. Just as it sounds, an advance is pre-payment against future sales. Rather than a lump sum, most advances are divided into halves or thirds and paid at specified stages of the two-to-four-year publishing process. The last payment often arrives upon the book's publication.
An aside: Publishers usually gift 10-20 copies of the book to the author who often doles them out to family members, meaningful sources, and as promotional giveaways. Beyond those copies, she must buy her own books. (If she buys them from her publisher at discount, her own purchase may not count toward book sales. And many publishing contracts don't allow the author to resell the book.)
Once a book is published and on shelves, the author won't see a penny of royalties until her advance "earns out," which means that those future sales tied to the advance payment now must come to fruition. Put another way, no royalties are paid until enough copies of the book are sold that the author's contracted royalty earnings exceed the amount already paid via the advance. From what I understand, most books never earn out the advance and simply go out of print without earning royalties. Ouch!
A royalty is a negotiated percentage of sales that is paid to the author twice per year, after the advance earns out. Yep. Twice. Per. Year! Novelists may earn up to 10% royalty, but fiction and nonfiction picture book authors earn an average 3%-6% on either the net or retail sale price of each book (depending on the publisher contract). If my approximations are close, for an $18 hardcover book, the author earns ~27¢-~$1 per book sold. If the book is sold at discount, the math changes. Out of those royalties, the agent's well-deserved commission and Uncle Sam's tax must be paid. To make it even more challenging, publishers withhold (reserve) a percentage of all royalties for about six months, to allow for potential returns.
We often don't account for the value of time, so it's also worth mentioning that authors invest between months and years to the research/write/rewrite/revise process for each book—on their own dime and time. That's a lot of hard-earned expertise. As for the coveted library conferences and events, book festivals and fairs, blog posts, book tours, and other publicity endeavors that follow…you guessed it. Authors usually don't get paid for their participation (this author prepared and presented 12 such free presentations in 2018). Publishers pay authors for a product, not for their time. Despite the financial hit, most authors embrace every opportunity to meet readers and educators, because they love what they do.
How do authors pay their living expenses with such impractical financial arrangements?
Since few authors make a living off of book sales, they rely on other income streams to survive. They either hold day jobs, have the financial support of a spouse or partner, or they cobble together freelance writing, editing, teaching, and speaking gigs in hopes of paying for, among other things, groceries and health insurance. Many full-time children's authors rely on school visit honorariums for their primary income. Thoughtful presentations that reinforce curriculum goals, while requiring the energy of a performer, are challenging, often exhausting, and always a thrill.
Honorariums vary, depending on region, specific author qualifications, number of books and awards, etc. As with royalties,  authors must pay 20%-40% taxes on their school visit income, thanks to self-employment status. If you want to learn more about average school visit honorariums and other revealing statistics, including potential gender inequities and diversity concerns, check out this great survey by Michelle Cusolito and Jeanette Bradley. 
Authors Can't Give Presentations for Free?
Nobody would ask a lawyer, a plumber, an educator, or other professional to provide a service for free, yet authors are frequently asked to prepare and donate presentations, sometimes with the assumption that book sales should suffice as renumeration for time and travel. You, my more-informed friends, now understand why authors literally cannot afford to give away all of their time.
When you pay an author to speak at your school or event, you not only provide an opportunity for meaningful connections between a book creator and young readers/writers, you literally support the author while she works on her next great book—the one that will resonate with just the right child in your stead—perhaps a future author or teacher.
So Writing Books for Young Readers Makes No Financial Sense?
In a word, no! Writing for children is a financially-nonsensical career choice. Any financial advisor or savvy barista would urge writers to pursue the craft as a hobby—not a career. But tell that to the scores of former lawyers, engineers, insurance agents, journalists, educators, PhDs who have traded their secure livelihoods for the topsy-turvy, nonsensical, soul-fulfilling, rewarding pursuit of publication.
Authors are called to this vocation because they know the power of literacy to reflect, inspire, and transform young readers. We, and our families, understand the financial sacrifices that authorship entails. Just or not, it is our path. See, we know that the surest way to communicate is between hearts and imaginations, and that hope can always be found in books that provide windows and mirrors.
Authors are hopeful creators of those windows and mirrors. They are hungry people. Please feed them.
____________________________________________________________
Contact me with questions or comments or check out my page dedicated to school visit presentations and writing workshops.
Need help paying for an author visit? Click here for a list of grants and other fundraising ideas.
Donna Janell Bowman is the author of many books for young readers, including the award-winning picture book biography Step Right Up: How Doc and Jim Key Taught the World About Kindness, illustrated by Daniel Minter—a Texas Bluebonnet book—and Abraham Lincoln's Dueling Words, an NCSS Notable Book, illustrated by S.D. Schindler. In October 2019, her STEAM-infused picture book biography, King of the Tightrope: When The Great Blondin Ruled Niagara, illustrated by Adam Gustavson, releases from Peachtree Publishers. Donna has an MFA in Writing from Vermont College of Fine Arts. She lives near Austin, Texas and is represented by Erin Murphy—Erin Murphy Literary Agency.