The Truth About Author Incomes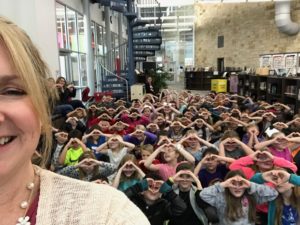 The more I visit with literacy gatekeepers, readers, and new children's book writers, the more I hear the assumption that authors are wealthy—as if they are pocketing 100% of a book's retail price with an endless flow of sales. In reality, after spending years honing their craft, often accumulating student loans for advanced degrees along the way, book authors rarely make a living from the sale of their books—creations that take months to years before a publishing contract. Writing is both an art and a profession that requires deep expertise, financial sacrifice, and a leap of faith. Ultimately, authors probably earn the smallest financial crumb of the entire publishing process.
The Financial Reality of Picture Book Incomes
The average picture book advance is $1,000-$8,000 (pre-agent-commission and pre-tax), varying greatly by the author's publishing experience and sales record. Extreme outliers earn from zero advance to a six-digit (extremely rare) advance. Middle grade and YA authors can earn much higher advances. I assume that's at least in part because an illustrator is not involved and production costs are lower than picture books. Just as it sounds, an advance is pre-payment for future sales. Rather than a lump sum, most advances for picture books are divided into halves or thirds and paid at specified stages of the two-to-four-year editing and publishing process. The last advance percentage often arrives as the book lands on store shelves. That's a long time to wait for little money.
Once a book is published and on shelves, the author won't see a penny of royalties until her advance "earns out," which means that those future sales tied to the advance payment now must come to fruition. Put another way, no royalties are paid until enough copies of the book are sold that the author's contracted royalty earnings exceed the amount already paid as advance. The higher the advance, the longer it takes for a book to earn out. Needless to say, it can take years for an author to see royalties IF the book doesn't go out of print first. If it does go out of print, it is essentially dead.
A royalty is a negotiated percentage of sales that is paid to the author twice per year after the advance earns out. Yep. Twice. Per. Year! Novelists may earn up to 10% royalty, but picture book authors earn an average 3%-6% on either the net or retail sale price of each book (depending on the publisher contract). For an $18 hardcover picture book, the author earns between ~30¢-~$1 per copy sold. If the book is sold at a discount, the math changes. And, remember, that's gross royalties.
Just for grins, let's pretend that, after her agent's well-deserved 15% commission, picture book Author A receives 50¢ royalty per sold copy. If my math is correct, she would need to sell 120,000 copies PER YEAR to eek out a $60,000 gross annual income. And then she must pay taxes on that money each year, bringing the annual fantasy income to ~$40k—45k (depending on tax bracket). And, friends, we haven't even gotten to the author's operating and promotional expenses like computers, internet, swag, travel, book fairs, library conferences, in-kind donations, and other publicity and marketing outreach. Oh, and living expenses, too. I think it's a fair assumption that very few picture books or novels sell 120,000 copies in their lifetime. Realistically, a book's sales are a fraction of that number.
An aside: Publishers usually gift 10-20 copies of the book to the author who often doles them out to family members, meaningful sources, and as promotional giveaways. Beyond those author copies, she must buy her own books, which, depending on the publisher's contract, may or may not count toward her overall book sales.
I have frequently heard that the average children's book author earns about $10,000 per year, which aligns with what author Hannah Holt shares here. Legendary author Philip Pullman rang the alarm bell for The Guardian in 2018, and his focus was on the more lucrative novel. Since royalties depend on sales, which are largely out of an author's hands, an author must be selling books annually to piece together advances. An author's only hope for a sales-based livable income is to either be an outlier or repeated New York Times Bestseller or to be prolific and produce shelves-full of unusually successful books with commercial appeal. Publishers pay authors for a product, not for their time. The conundrum is that our bills still must be paid during the time we are marketing one book, and researching and writing the next book, and when we are engaged in volunteer outreach. This is a tough business to survive in.
Authors Earn their Living in Other Ways
Since few authors make a living off of book sales, they rely on other income streams to survive. They either hold day jobs, they have the financial support of a spouse or partner, or they cobble together freelance writing, editing, teaching, speaking gigs, and/or school visits for their primary income. For more about average school visit honorariums, which vary by region and by author experience, check out this great survey by Michelle Cusolito and Jeanette Bradley.
Here's Where it Gets Awkward——About those Requests for Donated Presentations and Books
Every children's author I know has a Texas-sized heart. We adore young readers and the educators who nurture them, and we know that our works and our presence can make a difference. We all donate a certain number of outreach efforts for meaningful causes. When crisis hits or voices are under attack or hushed, we raise our collective voices. We step up to help. But, there's only so much we can give when time and resources are so limited.
Nobody would ask a lawyer, a plumber, an educator, or other professional to provide services for free, yet authors are regularly asked to prepare and donate presentations, often with the promise of book sales as remuneration. There is no malice or insult intended. The requesters simply don't know that an author earning 50¢ per book would need sales of 2,000—4,000 copies to replace a $1,000-$2,000 honorarium. Even if the event did sell thousands of books (ha!), the author wouldn't see their royalties for up to a year, assuming their advance had earned out.
Publishing is a Nonsensical Career Choice, but…
Children's authors are called to this vocation because we know the power of literacy to reflect, inspire, and transform young readers. We endure the financial sacrifices that authorship entails.  We do what we do because we know that the surest way to communicate is between hearts and imaginations, and that hope can always be found in books that provide windows and mirrors. We authors are hopeful creators of those windows and mirrors, but we are also professionals who deserve to be paid.
____________________________________________________________
Contact me with questions or comments or check out my page dedicated to school visit presentations and writing workshops.
Need help paying for an author visit? Click here for a list of grants and other fundraising ideas.
Donna Janell Bowman is a central Texas speaker, writing coach, and author of award-winning books for young readers, including Step Right Up: How Doc and Jim Key Taught the World About Kindness, illustrated by Daniel Minter; Abraham Lincoln's Dueling Words, illustrated by S.D. Schindler; and King of the Tightrope: When The Great Blondin Ruled Niagara, illustrated by Adam Gustavson. Donna has an MFA in Writing for Children and Young Adults and enjoys connecting with readers and writers of all ages.